The adrenaline-pumping world of engines and the warmth of wood. Two worlds that are so different and so distant from each other come together in a harmonious way to give life to a brand new motorbike. A unique and original piece, entirely handmade, where great attention was paid to every single detail.
Not just a bike,
but a true work of art,
created in a completely artisanal manner
A niche product, the result of the ideas and the inspiration of her creator, who designed and manufactured her by shaping the material with his own hands and assembling every single piece.
Every single detail is unprecedented.
Shapes, colours, details, everything has been created solely for this bike.
"Amazzone", this is her name, can be produced on request, within a limit of 6 pieces because it is a limited edition.
THE SCENT OF WOOD
The smell of wood is primordial, captivating. It smells of life and nature.
It is rewarding and unmatchable.
The olive tree gives wood a special beauty and elasticity, releasing an energetic and determined scent. A fragrance that is synonymous with strength, with a powerful soul, just like its tree, which has its roots in very distant times.
THE TASTE OF METALS
It is immediately recognisable by looking at its surface, cold, silvery and bright.
When we hold it in our hands, we immediately perceive its peculiar rusty smell and its purity. And finally, we can feel its penetrating and primordial flavour, which tastes of soil and hard work.
UNIQUE AND INIMITABLE
A work of craftsmanship that is unique and will last over time.
Choosing a handmade bike means choosing a product created with the utmost care and accuracy, in every single phase of production, starting from the initial idea.
Craftsmanship is the opposite of modernity, which has made us accustomed to anonymous and standardised products, lacking soul and personality.
day by day
There is no room for haste in artisan work.
The complete creation of Amazzone required 4 years of work, characterised by hours and hours of relentless work, one day after the other, over and over again.
Because every creation
needs its own time.
It needs the right attention to enhance every single element.
Accuracy, precision and care for details are my strengths. The essential values that are at the heart of my artistic work, the very essence of what I do.
I give each creation the right amount of time to be conceived and the time it takes to come to life.
WOOD
Amazzone is made from olive wood, a valuable essence with a fine texture. Having personally selected the tree from a number of plants that had not survived transplantation, Paolo decided not to use a living plant.
STEEL
Some specific parts of the bike are made of steel, a particularly strong alloy. Frame and footpegs are made of stainless steel; while parts of the tank are made of mild steel.
ALUMINIUM
Aluminium is one of the most widespread elements in nature. The third most abundant element after oxygen and silicon, it makes up about 8% of the earth's surface. Ductile and malleable, aluminium is also very light, but hides many pitfalls in its processing.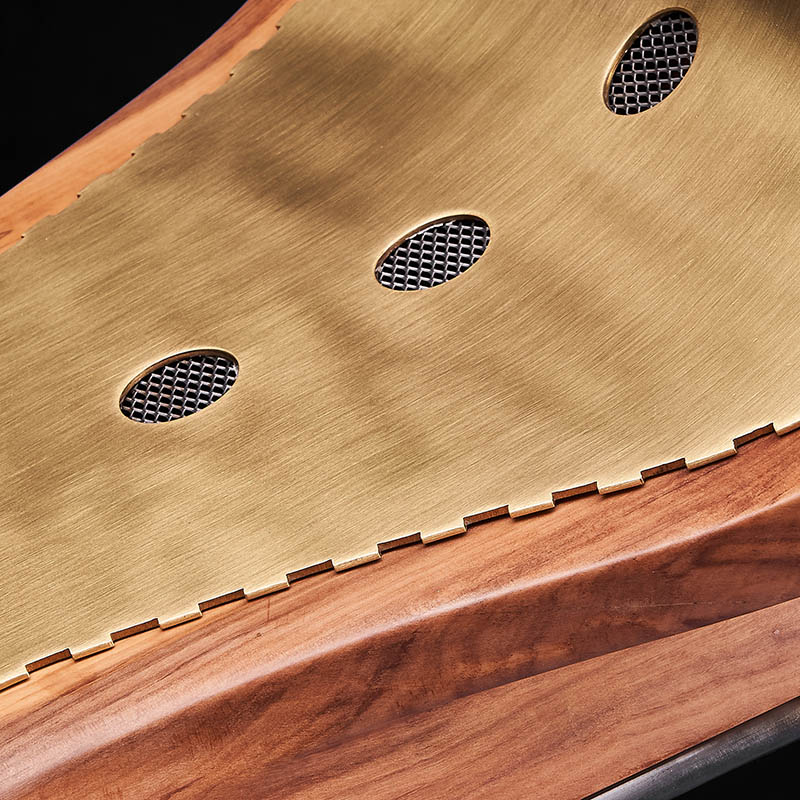 BRASS
Brass is an alloy of copper and zinc, with very high workability.
The percentage of zinc determines properties such as mechanical strength, colour, ductility, electrical and thermal conduction, as well as resistance to abrasion and corrosion.
craftsmanship
Work and passion for craftsmanship provide an unmatched value to all things, to art and creativity.
Every handmade creation is unique and inimitable.
The artisan gives life to his creative thinking. By shaping the material with his own hands, he gives it back its freedom.
Craftsmanship is the tangible representation of the contact between two souls. Wood and iron meet, collide, embrace and then move apart.
And finally, by penetrating one into the other, they give life to something unique, pure magic of curves and lines.
Paolo Manara can customise
every component of your motorbike
:
Production and modification of metal and light alloy components (tanks, mudguards, small air box fairings...)
Production of small parts and components in brass and light alloys.
Engine customisation (both in terms of aesthetics and performance).
Creation of components, including structural elements, in valuable wood
Study and realisation of painting and airbrushing
Production of customised mechanical components
Restoration and customisation of vehicles in general